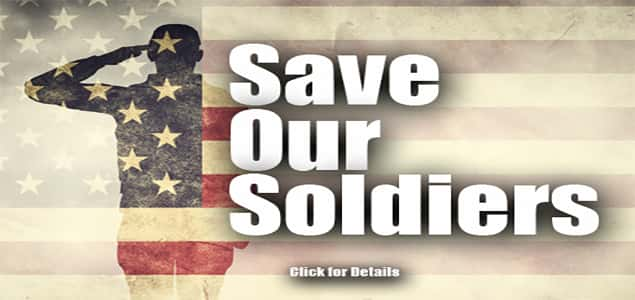 Save Our Soldiers is an ongoing feature from the Crawford family and DJRD Broadcasting to inform veterans about opportunities and assistance programs in their area. Here are the organizations featured on Legends 770 KAAM:
---
Stop Soldier Suicide: The first national civilian non-profit dedicated to preventing active duty and veteran suicide. For more information, go to stopsoldiersuicide.org or call 844-889-5610.
Recruit Military: 200,000 men and women will be transitioning out of the military this year, and they'll be needing jobs. If your company is looking to hire, Recruit Military can connect you to a high-quality pool of veteran talent. Just visit recruitmilitary.com for more information.
Patriot Paws: At least 30% of the men and women returning from Iraq and Afghanistan suffer from some degree of PTSD (post-traumatic stress disorder). Patriot Paws is a Rockwall-based organization that provides companion dogs to help veterans regain the ability to function both physically & psychologically in the world. To find out more, visit patriotpaws.org or call 972-772-3282.
Hidden Heroes: Created by the Elizabeth Dole Foundation, Hidden Heroes is an organization that helps those who are caring for a vet find the resources they need to cope with the reality of caring for a soldier who's been wounded both on the outside and inside. The needs of these caregivers are different from those who care for the elderly. Visit hiddenheroes.org for more information.
DAV (Disabled American Veterans):  DAV is a non-profit charity dedicated to helping disabled veterans navigate the Department of Veterans Affairs to ensure they receive ALL benefits owed to them. For more information, visit dav.org.
Texas Lawyers for Texas Vets:  Providing pro bono civil legal assistance to veterans and their families who otherwise cannot afford legal services, this group of volunteers works in collaboration with local bar associations, legal aid organizations and veterans service providers.  To find out more about Texas Lawyers for Texas Vets, go to texasbar.com.
Mission Continues:  This nationwide, non-profit organization was created for post-9/11 veterans to help them find a new purpose once they return home.  Veteran volunteers work alongside non-profit partners and community leaders to solve problems within their communities, all while building new skills and networks.  Learn more by visiting missioncontinues.org.
Joining Forces:  This organization was created to provide service men and women, veterans and their families with employment, education and wellness resources that will enable them to thrive once they return to civilian life. To find out how you can help, just visit whitehouse.gov/joiningforces.
Angels of America's Fallen:  Angels of America's Fallen honors the children of service men and women who have died in combat.  Each child is matched with a healthy, physical activity that they can participate in, free of charge, from the time of their loss until the age of 18.  To learn more about this organization or to donate, visit aoafallen.org.
Hearing Loss:  Veterans are 30% more likely than non-veterans to suffer severe hearing loss.  To help combat this problem, organizations such as The Hearing Aid Project seek to connect vets to resources designed to assist them in addressing their hearing loss issues.  For more information, visit hearingcharities.org. 
USO:  Since 1941, the USO has grown to offer aid and services to military families, which includes helping soldiers transition back to civilian life, giving free caregiver training to families of the wounded and, of course, entertaining our troops abroad. There are many ways you can help the USO in caring for our soldiers.  Just visit uso.org to find out how.
Angel Airlines for Veterans:  The mission of Angel Airlines for Veterans is to ensure that no vet in need is denied medical care due to a lack of transportation.  With 675 trips a month (either by plane, train, bus or car), veterans can get the treatment and care they need and deserve. To find out more about this organization, visit angelairlinesforveterans.org.
Carry the Load:  Carry the Load aims to restore the true meaning of Memorial Day by bringing all Americans together in recognizing and celebrating our nation's heroes every day so that the sacrifices of our military, police, firefighters and rescue personnel are not forgotten.  To participate in an upcoming event or to donate, log on to carrytheload.org.